Heartmath Products
We are the Master Distributor for Heartmath®  training systems. Our newest product for iphone/ipad and Andriod Features guided Heart Meditations. Bluetooth model for iphone and Andriod. Wired product available for iOS devices with Lightning connector.
We provide technical support and "Quick Coherence" Training to new users. We also provide Coaching and Monitoring Programs to individuals who purchase the products.
Take Charge of How You Feel
It can be easy to feel overwhelmed, anxious and scattered. The Inner Balance™ trains you to shift and replace emotional stress with emotional balance and coherence.
Replenish your energy so you have more available to do what's most important to you.

Balance your emotions for better relationships and performance.

Quiet an overactive mind for more focus, composure and effectiveness.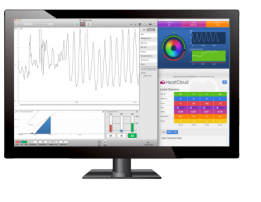 emWave Pro

Learn to Access a State of Active Calm
The emWave Pro is a scientifically validated heart-rate monitoring system that facilitates learning techniques to create an optimal state in which the heart, mind and emotions are operating in-sync and balanced. This is achieved through a patented process which displays heart rhythm patterns in real time showing you when you are in this high performance state. We call this coherence.
The emWave Pro helps you achieve coherence and alignment through simple-to-learn exercises and a rich graphical interface. Using a pulse sensor plugged into your USB port, emWave Pro collects pulse data and translates coherence information into user-friendly graphics displayed on your computer screen. Through coherence techniques, interactive exercises and game play, emWave Pro helps you bring your heart and mind into a coherent state, building resilience, increasing energy, and promoting focus, mental clarity and emotional balance.
The Tools for S

uccess
Real-Time Heart Rate Variability Monitor

Four Challenge Level to help you raise your baseline coherence levels

Coherence Coach® tutorial for learning and applying the Quick Coherence® technique

Interactive Games that help you transform stress into creative energy

motion Visualizer® provides stunning colorful images which vary according to your emotional state and coherence level

My Inspiration lets you create a montage of pictures and add  your favourite music for practicing coherence

Data storage showing coherence levels for session and history review
Typical Benefits that People Notice With 2 Weeks of Genuine Practice:
More calm

Better sleep

Less reactivity

Less worry

More alertness

Better focus and decision making

More positive attitudes

More ease and  inner peace

Heart rhythms when stressed as compared to heart rhythms when feeling a positive emotion
Ordered and harmonious heart rhythms are an indicator of your "coherence level". High coherence is a state associated with positive emotional attitudes, which send signals to the brain that reduces reactions to stress and improves cognitive function, hormonal balance, immune response, coordination and reaction times, and your overall sense of well-being.
The HeartMath Solution: The HeartMath Institute's Revolutionary Program for Engaging the Power of the Heart's Intelligence — By Doc Childre and Howard Martin
Approaching stress from the heart
This clear and concise book contains the basic science, practical information and easy-to-learn techniques you need to understand and begin using the HeartMath System to change your life. It explains how your heart is your body's systems and health control tower. Then it provides three techniques for lowering stress and deepening the heart qualities of wisdom, compassion, strength and joy and increasing your intuitive, creative and heart-centered aspects.
Nuprep and Ten20

Products
We are the Master Distributor for Nuprep Skin Prep gel and Ten20 conductive paste.
EEG-Biofeedback Equipment Accessories
Good Quality EEG gold-plated Reusable Electrodes and Ear Clips
Alovea products are made with natural and organic ingredients, which may be appealing to those who prefer to use products that are free of synthetic or harmful chemicals.
Alovéa Balance™
Lessen the mood swings, menstrual cramps, weight gain, low libido and more.
Alovéa Immūn™
Provide the body with targeted immune support where it counts — in the gut.
Copyright © 2006-2023               NSRCML Lab Pte. Ltd.                 All rights reserved.